Adding OERs onto your Blackboard course is easy. However, there are a few things you need to consider when using OERs:
Pedagogical Design
Always design your online teaching with a focal issue or problem for all students to explore together. The lesson progresses in stages of exploration of the issue.
Set up guiding questions for your students to pay attention to before asking them to use or visit any resource.
Add a small task after the OER for students to review, reflect and check their understanding. It can help students to retain important points covered, and also increases the chance of transferring from short-term memory to long-term knowledge.
Encourage students to voice out problems or difficulties of using the resources which could promote collaborative learning. Sometimes seemingly unrelated or un-important questions may have surprising results.
Set up sharing areas on Blackboard for students to share online resources relevant to the course is also a good practice to increase students' engagement.
Copyrights issues
Pay attention to the copyright statements. If a resource is listed as "All Rights Reserved" or marked with the symbol ©, check if it allows educational use. Otherwise, please approach the resource owner to grant the permission.
If the resource has a Creative Commons License or marked with the symbol , check its attributions. There are six main Creative Commons licenses creatives which are based on four conditions : Attribution (by), ShareAlike (sa), NonCommercial (nc), and NoDerivatives (nd). Here are the six main Creative Commons licenses: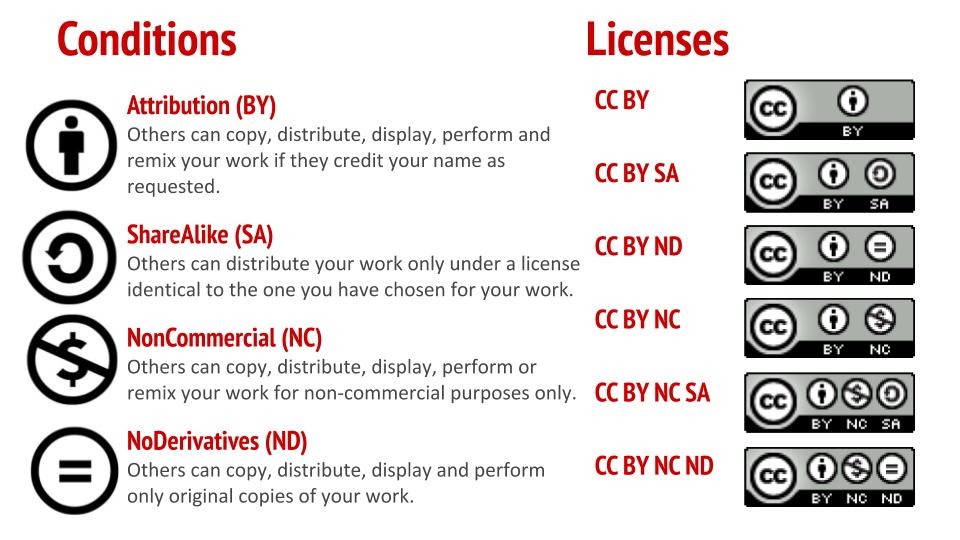 For details, please check the detailed explanations here:
https://creativecommons.org/share-your-work/licensing-examples/